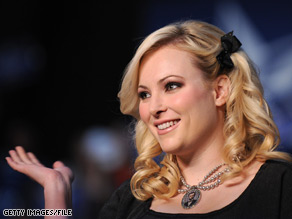 Meghan McCain, daughter of John McCain, is warning the GOP of an impending civil war. She cites her desire for an "out with the old, in with the new" philosophy for the Republican party. I do applaud Ms. McCain for stepping out from her father's shadow and making her voice heard--and encouraging other young women to do the same. However I think that her general idea is a bit misguided. Ms. McCain seems to want to be "more inclusive" as a party by "...[b]
reaking
free from obsolete positions and providing real solutions that don't divide our nation further." By "obsolete positions," she means support for traditional marriage. I have to wonder if Meghan has actually read the 2008 Republican Platform.
Her assertion is that by using "more gay-friendly language" the Republican party will garner a wider base and the attention of a younger, more hip crowd.
The latter may be true. Welcoming gay marriage may quite possibly attract the attention of a younger crowd, but it would do so at the expense of the Republican crowd. Ms. McCain seems to want the public, and the gay community, to believe that the Republican party is currently "anti-gay." She is mistaken. The Republican party is pro-traditional-marriage. I have yet to encounter a Republican, regardless of his/her age, who was opposed to "civil unions" to allow gay couples the same legal rights as married couples with regard to health care, next of kin notification, etc. Republicans are opposed to the redefinition of the sanctity of marriage. Please don't be fooled, this is not an issue of rights. There is no unalienable right for each person to marry his/her partner of choice. Our unalienable rights were endowed by our creator. We acknowledged this in the Declaration of Independence, and this term is referenced widely. If we are alright with acknowledging that we do have a creator, aka God, then why would we think that He got it wrong when he designed us for procreation?
As a conservative Republican, I could care less what two grown people do in their bedrooms. Contrary to what you may read in salacious headlines, the Republican party is not trying to butt into peoples' sex lives. Instead it is trying to
ensure
that the definition of "marriage" is upheld. Can we just call a spade a spade here? If the issue were one of rights, civil unions would be welcomed by people like Ms. McCain. We probably should address
marriage vs. civil unions
. Essentially the problem as I understand it, is that there is no uniformity. Some states, not all, recognize civil unions. And some states recognize only their own civil unions, but not others. Apparently some states allow certain benefits for civil unions, while other states do not allow or address the same benefits. I vehemently agree that this is a problem. There should be uniformly recognized laws which regulate civil unions. I would support a federal level of protections under civil unions. But I cannot and will not support the redefinition of the term "marriage." A marriage and a gay union is inherently different, and as such, the recognition of them will differ. We cannot grant the right to procreate to a gay couple, it isn't within our power. Instead that right is granted by our creator. The best we can do is to protect the rights of partners to have insurance benefits and the likes. Even if every state in America guaranteed the right to marriage for all--gay and straight--the two types of marital relationships would still be different. No amount of legislation will ever make them the same. That is not discrimination, it is a simple genetic fact. I, like Meghan McCain, have gay friends. But that doesn't mean that I am kidding myself into thinking that they could ever look forward to having a marriage like my husband and I share. I do wish that they could have that. But it wouldn't be a matter of us changing the definition of marriage to suit their relationship. It would be them pursuing different relationships that would allow them to procreate. That is not my law, it is God's law.
There is no storm brewing within the Republican party. There is not a huge divide of the "young" and the "old." There is most certainly an awakening going on, but it has nothing to do with a war within the party. To the contrary, if Meghan hasn't noticed, the party is energized and electrified at the moment on a unified front. I'd like to invite Meghan McCain to join the Republican party, but I would respectfully request that she not ask us to check our morals and values at the door.
Ms. McCain stated in her blog that
Republican resistance to gay marriage goes against conservative values—and our own self-interest.
I wonder why it is that Meghan thinks sacrificing our values is good for the party? Obviously she has a different idea of what conservative values are, than I do. Certainly we would gain Democrats' favor if we adopted their values, but what would the result be? Do we really NEED two Democrat parties? I mean I guess we could feasibly hold an election with one "liberal Democrat" and one "conservative Democrat" but somehow I think that is not what is best for our country. Isn't that the goal of having more than one party in the first place? Is our goal not the betterment of our society? As I understand it, we have differing philosophies, and the will of the population is served when the majority wins an election. I may not agree with the Democrats who are in power, but I do respect the process which placed them there. I don't ask that their party, in the future, become more conservative, or even Republican for that matter. I am not promising to support them if they would only change this or that about their party's stance. Their party is what it is, I happen to not agree with it. That is precisely why I am a Republican. If I wanted to vote according to a Democrat's values, I would change party affiliations. I would suggest Meghan think about that in regard to her own views if she feels that strongly about them. Before this gets blown out of proportion, I am not suggesting that people who support gay marriage should not remain Republicans. But in the same vein that I would not agree with changing our views on the sanctity of life and the horror that is abortion, I can't support her view that we change our stance on the sanctity of marriage.