Anonymous said...
I hate to say this as I will surely be accused of being a troll, but the Republican party has become the political action wing for big corporations, right wing zealots, and deep pocketed fanatics. Fox News on the other hand is the media relations firm for these same groups.

The actions of this group [Smart Girl Politics] has thus far been nothing but insulting to conservatives, and their values. And when I say conservatives, I do NOT consider right wing zealots of Christianity (one topic voters are idiots), racists (how the hell did they get such a big voice in the party), and rich white men (who are either trying to make more money, or keep the money they have) conservatives.

As a liberal, as an American, and heck as a human being - the current incarnation of the Republican party both sickens and scares the crap out of me.

Please take it back.


April 15, 2009 12:06 AM
The above is a comment I received in response to my posting of a letter to the RNC Chairman, Michael Steele. I was inspired to address the "single-issue voter" hatred in this country, by those who seem to have forgotten what it truly means to be one. Single-issue voters and politicians really have a bad wrap in this country. I should know, I'm one of those crazy, right-wing, Christian zealots who vehemently opposes abortion—above all other political issues. Sure I want our country to be financially stable. Of course I want us to have good foreign relations. I want our citizens to have access to good schools and great health care. But am I able to turn a blind eye when murder of one faction of our population has become widespread and accepted? I'd have to say an emphatic NO. Thank you for whatever terms you may have just labeled me; I'll wear them proudly. I can no more idly sit by and bite my tongue as an unborn child is murdered than I could if I were passing someone on the street who was killing another person in front of me.

I am proud to say that I am in great company as a single-issue voter, though. Our country was founded by single-issue voters. Above, and forsaking all other issues, the Pilgrims came to this country to avoid religious persecution. They loathed it so much that they fled their homeland, in search of a more righteous place. Their mindset was such that they would, today, be lumped together with us "ignorant single-issue voters."

Abraham Lincoln was another "single-issue voter." His hot button was slavery. That darned slavery…if he had just sat back and minded his own business, this world would be a better place…we could all just live and let live…the government wouldn't be able to come down on people who try to own other people. Wait a minute…Back up…that doesn't make sense, does it? No, this nation would not have been better off if Lincoln had ignored the issue of slavery. Certainly he could have focused more on other issues and chose to just let those slave owners keep buying and selling HUMAN BEINGS, but thank God he didn't. He knew that it was the right thing to do, his critics be damned. When we're talking about an issue like slavery, it is easy to look back and realize that this was an entire population of humans who were being oppressed and brutalized, and it is blatantly clear that it was DEAD WRONG. It is a disgusting portion of our history. And you can thank a determined single-issue voter for closing that chapter. Maybe, as he predicted, you have forgotten Lincoln's words at Gettysburg:

The world will little note, nor long remember what we say here, but it can never
forget what they did here. It is for us the living, rather, to be dedicated here
to the unfinished work which they who fought here have thus far so nobly
advanced. It is rather for us to be here dedicated to the great task remaining
before us—that from these honored dead we take increased devotion to that cause
for which they gave the last full measure of devotion—that we here highly
resolve that these dead shall not have died in vain—that this nation, under God,
shall have a new birth of freedom—and that government : of the people, by
the people, for the people, shall not perish from the earth.
~Abraham Lincoln, The Gettysburg Address


Maybe you'll notice that Lincoln wasn't only referring to the able-bodied people, or the rich people, or the white people, or the male people, or even the BORN people. There is a little clue in there glaring back at all of us that so many like to sweep under the rug. I'll give you a hint, it is the fact that he was fighting for this nation, under GOD.

There is another very famous and beloved single-issue voter from our history. He would likely still be here with us if he weren't so hell-bent on pushing for that single issue. This man was Dr. Martin Luther King, Jr. His hot topic was civil liberties for everyone, namely African Americans. He was killed for holding the unpopular, at the time, view that black people were just that…PEOPLE. We can all look back and see how vile and ignorant so many of our countrymen were. They literally didn't consider one segment of our population to be as human as they themselves were. They considered them "less than," sub-human, if you will. Thank God that enough people stood up to say that they too were "single-issue voters" and that they were unapologetic in that stance. Our country is most definitely a better place because of their determined pressure on society. We are no longer "separate but equal," now we are just "We the People."

Now I am aware that so many have denigrated us "single-issue voters" and we make great fodder for the MSM's evening news. But there was one country where there was not an overabundance of "single-issue voters." You probably know it as Nazi Germany. Hitler campaigned on promises to make Germany be well respected by the world, to give them financial stability and power. Many people thought that he was crazy for his views regarding the Jews, but they kept quiet about that because: Hey, that man kept his other campaign promises. It was unfortunate that he was slaughtering an entire segment of their countrymen, but for the most part, as a whole, their country was thriving. Don't you realize that when you tell a "single-issue voter" to be more "open" and to look at "all" of the issues equally to make decisions that you are asking them to be like the complacent German Christians? They didn't agree with Hitler's treatment of the Jews, they knew they were going missing, but because the rest of life was ok for them under his control, they remained silent. They weren't directly kill anyone themselves, but their silence made them equally responsible for the Holocaust.

You see, Mr./Mrs. Anonymous Liberal, we cannot simply sit back and look the other way while babies are being slaughtered with no one to defend them. We owe them more than that. There are some issues that transcend the importance of all others. I do care about taxes and foreign policy, but if I find out that even the best and most fair politician, will not stand up for the lives of those most vulnerable in our population, then I cannot, and I will not support them. Pastor Martin Niemueller was arrested in Nazi Germany for preaching the Bible, and speaking against Hitler, consequently he was one of only a handful of German Christian leaders who did speak out. A Lutheran chaplain visited him in jail and asked him, "My brother, what did you do? Why are you here?" To which Niemueller replied, "My brother, given what is happening in our country, why aren't you here?" It isn't those of us who are "single-issue voters" who should be chastised and criticized. Instead, I think it is those who would dismiss such overwhelmingly important issues, in favor of other less meaningful things, who should be asking themselves why they are not standing up beside US.
And now, on to MY hot button issue, Abortion.

What have you heard said about it and in defense of it? A woman has a right to choose? It is a necessary evil? I would never have one, but I can't tell another woman she can't have an abortion? I don't agree with abortion but it is not my place to judge what someone else does?

What happens if you are sitting in your house and you hear screams and violent thuds from the house next door? You run outside to see a young mother with a bloody knife in her hands and find out later that her six month old child was lying dead in the house in a pool of blood.

It's not really your business, I suppose. I guess if we're continuing with this façade of "political correctness" one could say, "I wouldn't kill my child, but I don't know what her life circumstances are, maybe she made the right choice for herself and her family."

But let's get real here. You're anonymous on the internet; no one knows you're reading this. You won't give me a report on your thoughts when you're finished. You can respond in your heart honestly. What would you think in this instance? And more importantly, what would you expect our government's role to be? I know that not a single one of you would respond that you think the mother made a choice and it was her choice, and that the government should respect her choice. You aren't about to tell me that while you wouldn't stab your baby, you aren't going to tell another mother she doesn't have that right. I mean, after all, maybe she's just overwhelmed with her finances and wants to go back to school? Maybe she's got a terminal illness and it is just too hard on her body to keep caring for the baby? Maybe she is even mentally ill and did not have a clue that what she did was wrong. But you are still not going to tell me that you think the government should butt out and allow the woman the freedom to make that choice. It is not just a choice; it is the choice to commit murder. Someone who has an abortion is killing their baby. If you're "pro-choice" you're going to argue that if you don't acknowledge that the baby is "living" in the womb, then there is no way to "kill" that child.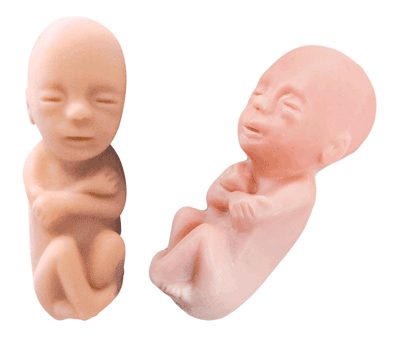 Merriam-Webster defines kill as: "to deprive one of life." I would say that fits even for those of you who claim that an unborn child is not a living human, but the "potential" for life. Terminating a pregnancy deprives the baby of life, even the potential for it, if that's your next flawed argument. It is only "just a choice" if you can remove yourself from the situation. If you can just hear the word abortion but block out any images of what an abortion actually is, what it looks like, what it sounds like, and what it truly accomplishes--death. It is not an unfortunate tragedy, that is just a pretty package to wrap it in. It's just you and me here, don't kid yourself.

I'm constantly reminded, by people like you, Mr./Mrs. Anonymous Liberal, that I am just a sheep who has been guided by someone else with an ulterior motive of money or power. I have to say to you, when no one is looking, when no one can hear, do you really think that an abortion is really "just a choice?" If you answered yes, I'm going to have to surmise that you are one of those who wildly protests if someone dares to attempt to show you a video or photos of a dismembered baby who has been aborted, I mean who's mother has made a choice. You try to spin it so that the person trying to open your eyes is somehow some zealot who is crazy and trying to save babies and everything.
Again, I ask you, "Why aren't you here?"